Someone once said I couldn't create and write about as many childfree characters as I wanted because it was unrealistic.
1) I have no obligation to be realistic in fiction. It's fiction. Sometimes it's fantasy fiction. If there can be dragons there can be childfree characters.
2)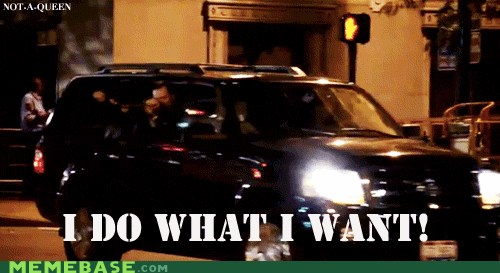 (gif: Tom Hiddleston as Loki, arms outstretched as he leans from a car window, text reads: I do what I want)
That said, you want realism?
More than one in five women do not have children. It's not as rare as fictional media would have you believe. (Also around one in three women have abortions, I mention this for a reason.)
And even if that were not the case, why can't I write all my characters as childfree if I want to? (Or asexual? Or both?)
I could own a publishing house and a film and/ or television company and pump out books and films and multiple high profile TV shows, every single one with a childfree female protagonist. And it would be nothing compared to the constant stream of media centred on the woman as mother, the media that tells us motherhood is inevitable unless there are tragic circumstances.
Look at the thousands of books with "baby epilogues" (Harry Potter and the Deathly Hallows is a good example, are most romance novels), books about women who changed their minds, shows with childfree women who change their mind and have a child/multiple children (Bones, The Big Bang Theory), shows that start out centred on a woman but then it becomes not about her skills about her motherhood (Fringe and its treatment of Olivia Dunham; to a lesser extent, Teyla in Stargate: Atlantis), or a woman who's got a world to save but if her birth control fails she won't get an abortion despite her seeming utterly uninterested in motherhood (Wynonna Earp) .
In fact Grey's Anatomy's Cristina Yang is a rare example of a childfree woman, one who did get an abortion to remain so. Remember, abortions do take place, and it is mostly women who have already had children who request them, but there are women without children who have abortions because they don't want children yet or indeed they never want children. How I Met Your Mother's Robin Scherbatsky also remained childfree but had to grieve over being found to be sterile.
I'm talking here about female characters because I'm a woman writing female, as well as male, childfree characters. There are probably more male characters who are childfree overall or those who just never mention wanting children, but they don't come under the same scrutiny. Captain Picard (Star Trek: The Next Generation) and Cormoran Strike (Strike novels; it's said twice in the first 2 books that he has never wanted children and adds that he isn't sentimental about them) are just two examples but I'm betting people can come up with many more, far more examples than those of females who don't want and more importantly never do have children.
I cannot change the world or the media landscape but I can write what I want to. And many of my female characters are childfree. There are no baby epilogues. And I will not apologise for that.  Sometimes you have to write the story you most want to read.